Please call 510-384-6786
or e-mail: elenapingree@gmail.com
Hours of operation: Mon-Sun 10 am - 8pm by appointment only
Address: 1826 Clement Ave, Ste#204, Alameda CA 94501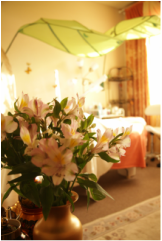 With over 15 years of expert training in Europe and the United States, Elena, the owner of the Gorgeous Lady studio, features certified organic, medical graded professional product line of the German company, Jean D'Arcel.

There's more to a memorable experience than just an expert and sublime facial, as renewing as may be. The interior of the studio that are soothing and serene also deliver a visual and sensual experience that guests will take away with them possibly forever - and definitely until they book their new visit for facial, waxing, eyebrows shaping, body wraps and nails.

Elena is bi-lingual in English and Russian.


---